Welcome to the month of August, when experts predict that COVID 19 will likely peak Lagos. While research into the COVID-19 virus is ongoing, we know the virus is transmitted through direct contact with respiratory droplets of an infected person (through coughing and sneezing), and touching surfaces contaminated with the virus. The virus may survive on surfaces for a few hours up to several days. The good news? Simple disinfectants can kill it. Now what does this mean for your home?
The following are items you need to get for your home for the purpose of disinfection surfaces and your environment
1. Hand Sanitizer & Automatic Dispensers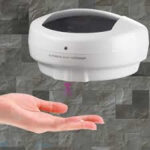 Washing hands often with soap and water for at least 20 seconds is essential, especially after going to the bathroom; before eating; and after coughing, sneezing, or blowing one's nose. If soap and water are not available, NCDC recommends consumers use an alcohol-based hand sanitizer that contains at least 60% alcohol. Apart from the hand sanitizers you need an automatic hand sanitizer dispenser especially in offices to avoid cross contamination.
Whether washing hands with soap or applying sanitizer the use of dispenser is necessary for both in offices, homes, schools etc
2. Antibacterial Wipes & Sprays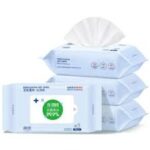 Antibacterial wipes are single-use wipes which are pre-moistened with an antibacterial solution. They typically come packed in a tub or canister which keeps the wipes moist, with a dispenser which allows users to pull out a single wipe at a time. Some are designed for use in sanitizing surfaces such as countertops, while others are meant to be used as hand or body wipes for a quick cleanup in the absence of water. Every home is different, but common high-touch surfaces include: Door handles, tables, chairs, handrails, kitchen and bathroom surfaces, taps, toilets, light switches, mobile phones, computers, tablets, keyboards, remote controls, game controllers and favourite toys. Disinfectant antibacterial wipes and spray is necessary to disinfect these surfaces and kill germs
3. Disinfection Spray Machines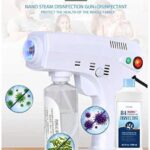 In the season when infectious diseases are prevalent, the necessary disinfection methods must be adopted to effectively control the infection of the disease. the indoor fogging sanitizer machine can be disinfected in 360 degrees without dead angles. This Disinfectant Spray Gun for sanitization is a new innovation and it is useful with disinfection liquid to sterilization for cars, home, office and also can be used to as steam to human, food etc. to disinfect with water. It is a device for killing harmful bacteria, viruses, fungus and pathogens in a car, public living room, office etc. It eliminates smoke and odor, eliminates formaldehyde PM2.5, purify particulate matter, sterilize and remove formaldehyde, etc.
4. Air Sterilization Card eg Air Doctor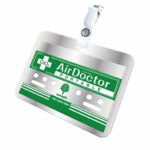 What is Air Doctor? Air Doctor gives you a good hygiene life and comfortable feeling wherever you go, thanks to the power of solid chloride dioxide which provides a space that is microorganisms-free. It is a badge/ card that can be won on the neck chest or anywhere close in other to sterilize the air around you. Read more about Air Doctor in Nigeria Portable Air Doctor and Virus Buster effectively kills pathogenic microorganisms such as fungi, bacteria and viruses.
Strong Antibacterial Effect: Solid chloride dioxide has two and a half times more oxidizing power than general chlorine agents used for disinfectant. Effectively eliminates bacteria, mold, etc.
5. Nano Pocket Sanitizer Spray

You can now sanitize currency, your hands, keys, lift button, remote, watch, and all frequently touched spots with this automatic rechargeable Nano mist sanitizer sprayer. Very economical just charge it with charging cable provided and you are good to use this sprayer. No need for batteries, just recharge with your charger at home or in car while on the move and use it to sanitize your daily need items. Easy to carry in pocket and designed to protect us from Covid-19 infection. Can Sanitize Anywhere while Travelling, Boarding Trains, Buses, BRT and Cars. These product are available in bulk quantity and Wholesale Prices. It is also Ideal as a souvenir or gift
6. UV Disinfection Box & Bag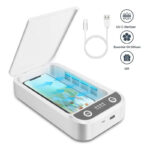 Some things can not be sterilized by chemicals otherwise it gets damaged; that is where UV disinfection light box comes in. UV light can be used to sterilized most things like your eye glasses, car keys, etc. Not only does the cell phone sanitizer can keep your belongs germ free, but also the uv sterilizer works like an aromatherapy diffuser. Simply add couple of your favorite aroma drops into inside, your phone will be freshen while sanitizing